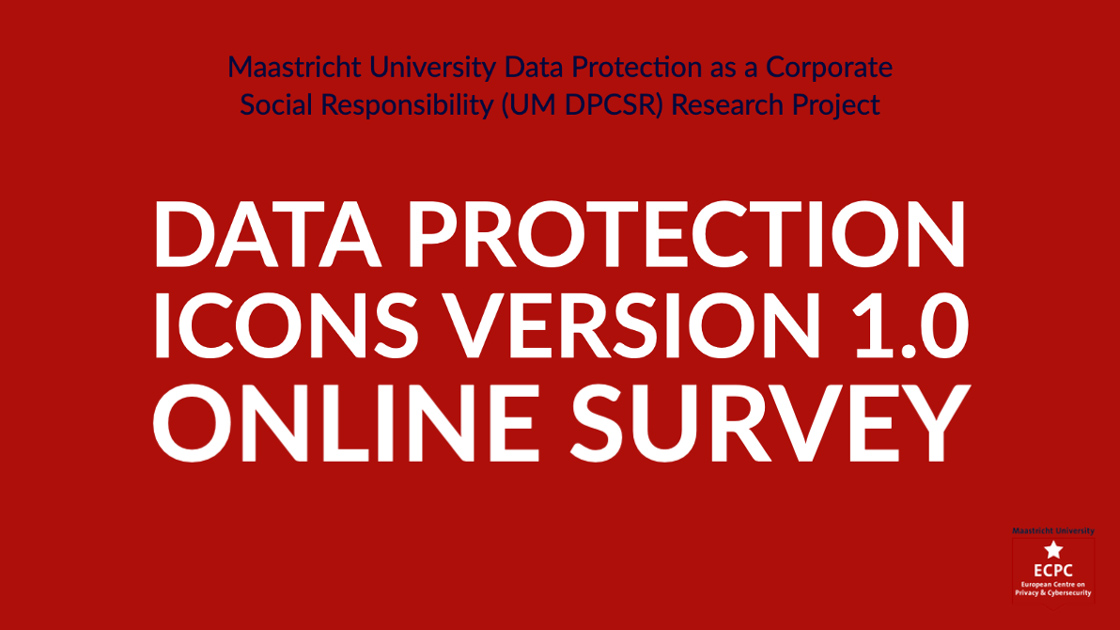 17 May

Help us improve transparency online and build a better digital society!
Survey on the Maastricht University Data Protection as a Corporate Social Responsibility (UM DPCSR) Icons Version 1.0 to facilitate users' understanding of how their data is used
The Maastricht University (UM) Data Protection as a Corporate Social Responsibility (DPCSR) research project directed by ICTLC Founding Partner Prof. Dr. Paolo Balboni aims to stimulate a lawful and ethical approach to the use of personal data to create a socially responsible digital economy and society. More information on the project can be found here.
Since early 2020, the Data Protection as a Corporate Social Responsibility (DPCSR) research project at Maastricht University's European Centre on Privacy & Cybersecurity (ECPC), has explored ways to improve transparency in the digitalized world. Data subjects (for example, consumers, internet users, etc.) all too often do not understand the information provided to them by organizations about how their personal data is processed.
In research carried out under the direction of Prof. Dr. Paolo Balboni, we found that transparency can be increased by using data protection icons. Icons, small images which represent or depict data processing activities, can be included in online and app information notices, payment forms, and registration forms to call the attention of users to certain processing activities. Last year we therefore developed a set of icons with the aim of facilitating users' understanding of how their data is used, with specific reference to five domains, which tend to present inherent high risks for the rights and freedoms of individuals:
Data used for marketing purposes (Marketing Icon);
Data used to evaluate certain personal aspects of individuals and make automated decisions (Fully Automated Processing Icon);
Data transferred to a country outside the European Economic Area which does not guarantee a high level of protection (Transfer Icon);
Data shared with other parties, including third parties in exchange for direct profit and/or value (Data sharing in Exchange for Direct profit/Value Icon);
Processing of sensitive data (Sensitive Data Icon).
You can read more about the UM DPCSR Icons Version 1.0 here.
To understand the effectiveness of the UM DPCSR Icons we created, we developed a 10-minue online survey directed towards EU citizens age 13 and older. The survey is available in the English, Dutch, French, German, Italian, and Spanish languages. The purpose of the survey is to help the researchers obtain a better understanding of the usefulness of the icons we have created, which specifically depict potentially high-risk processing activities. The results of the survey will ensure that the UM DPCSR Icons are comprehensible to a variety of people belonging to different nationalities, education levels, ages, and privacy-awareness levels.
We kindly ask you to support and contribute to our research project by agreeing to take the survey, which can be found here.
Acting together, we can improve transparency, and in doing so, better the digital world!
If you have any questions about the survey or the UM DPCSR Research Project, please contact Prof. Dr. Paolo Balboni at paolo.balboni@maastrichtuniversity.nl.